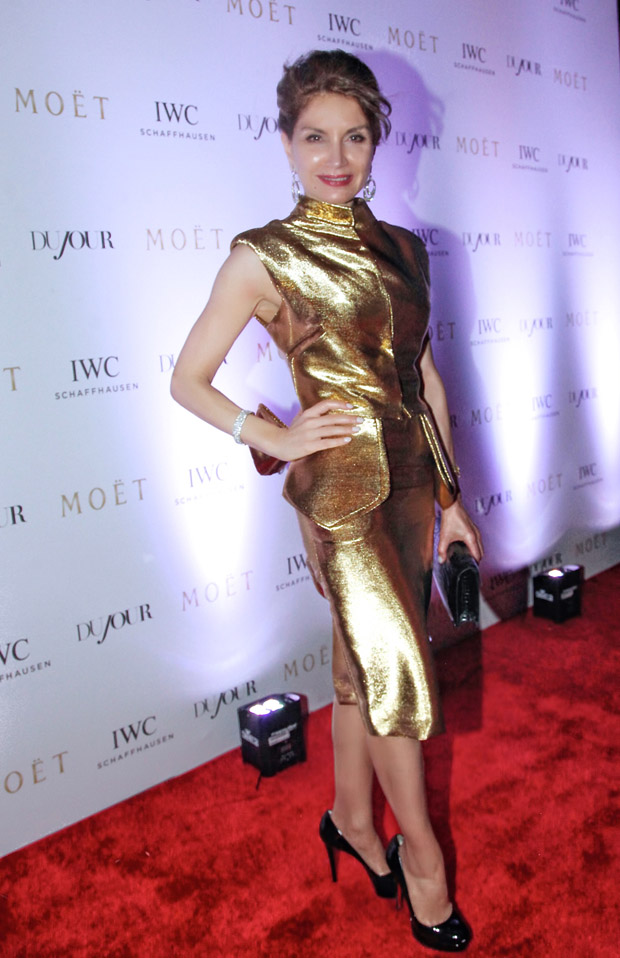 Jean Shafiroff, wearing a gold Kithe Brewster dress, attended the IWC Schaffhausen and Dujour Magazine's Jason Binn's celebration of "Timeless Portofino" during Art Basel Miami Beach at The W Hotel South Beach on December 3 in Miami, Florida. The featured performer was musician Solange Knowles. Others at this invitation only soiree included Jason Binn, Sammy Sosa, Won-G, artist Alec Murphy, David Arguella, Jonathan Cheban, Christian Acosta and Russell Simmons.
Shafiroff, philanthropist, is actively involved as a volunteer fundraiser and lender of several New York City and Southampton charitable causes. Her managerial skills, compassion, generosity and enthusiastic dedication are among her strongest traits. She possesses a remarkable ability to connect different charitable groups with interested people and resources. Jean's particular interests include charities related to women, health care, animals and the people of the cities she calls home.
Jean's hands-on involvement with the multiple causes she supports is one of her strongest traits. Each year she chairs numerous galas and hosts events benefiting not-for-profit organizations. She has chaired numerous galas including one for New York Women's Foundation, Southampton Hospital, NYC Mission Society, Southampton Animal Shelter, French Heritage Society, IBFCS, Lighthouse International, American Cancer Society, Southampton Bath and Tennis Club's Charitable Foundation and Solar One.