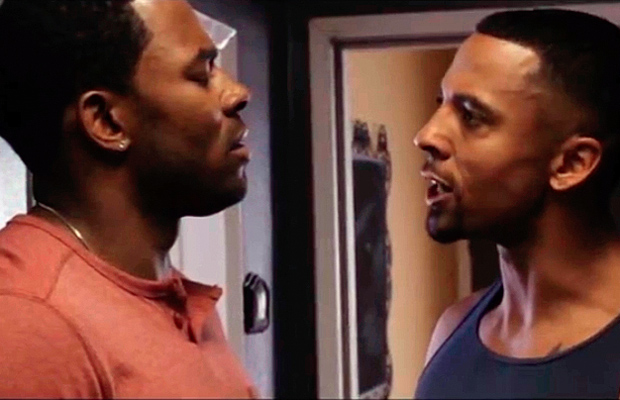 Lamman Rucker (Tyler Perry's Why Did I Get Married), DB Woodside (Fox's 24, Centric's Single Ladies) and iconic actor Billy Dee Williams (Star Wars) will star in The Man in 3B, the first film from 18-time New York Times bestselling author Carl Weber, in theaters Friday, November 6th.  The Man in 3B, is adapted from the New York Times and USA Today bestselling novel by the same name from Weber, and will also star Christian Keyes (BET's Let's Stay Together, ABC's Mistresses, Note To Self), television actress Kellita Smith (The Bernie Mac Show, SyFy's Z Nation) and veteran actresses Jackee Harry and Marla Gibbs.  The feature is directed by Trey Haley and produced by ND Brown and Carl Weber. 
Carl Weber was tapped last year to adapt seven of his bestselling novels to screenplays in a seven picture deal with Tri Destined Studios' ND Brown and Trey Haley.  The Man in 3B, the team's first feature film, is brought to the screen by Tri Destined, Carl Weber's Urban Books Media and Queen Latifah's Flavor Unit Entertainment/ One Unit Distribution.  Flavor Unit's recent successes include Bessie (HBO), Steel Magnolias (Lifetime) and the theatrical release Just Wright (Latifah and Common).
This past September, the 19th Annual Urbanworld Film Festival in New York selected The Man in 3B as a spotlight festival feature and hosted a red carpet premiere of the film.  The Man in 3B was also honored earlier this year by the Pan African Film and Arts Festival in Los Angeles (with the "Capri Partners Award") and the Englewood International Film Festival in Chicago.  On November 6th, The Man in 3B will be featured as part of Atlanta's 6th Annual BronzeLens Film Festival.
Carl Weber is one of a handful of African American authors who consistently appear on the New York Times bestseller list year after year. With 18 New York Times bestsellers to his credit, Weber moves from novels to films with his adaption of the sexy mystery The Man in 3B.  Weber's screenplay brings to life the secrets and surprises surrounding Daryl Graham (Lamman Rucker) and the cast of colorful neighbors who reside in his Queens, New York apartment building.  In this tale of mystery and murder, we watch as the lives of Weber's carefully crafted characters are turned upside down, each for different reasons, but all of them having something to do with Daryl Graham. From his extremely good looks to his undeniable swag, Daryl is the man every woman wants and every man wants to be. The Man in 3B is an expertly woven New York Times and USA Today bestselling urban tale.
The Man in 3B also stars Anthony Montgomery (best known for his long-running role on the series Star Trek Enterprise), Brely Evans (Sparkle, Just Wright, BET's Being Mary Jane), Nafessa Williams (One Life to Live), Robert Ri'chard (Coach Carter, UPN's One on One), Christian Keyes (BET's Let's Stay Together, ABC's Mistresses) James Black (Anger Management), Trisha Mann-Grant (The Last Fall) and R&B singer Olivia Longott.  Veronica Nichols, Tracy Moore, Walter Nixon and Jeffrey Dumpson produce. Eric Wycoff is director of photography. Chris Peppe is editor. Lana Bettencourt is unit production manager.
"I am excited to see The Man in 3B come to life as a film," says Weber. "We have put together a great team of creative experts who have welcomed my input. Being a part of the script writing and production process has been a phenomenal experience, and moving from writing novels to writing and visualizing stories for the screen has proven to be a natural progression. I look forward to the success of The Man in 3B and to the future of Urban Books Media."
"Carl Weber has written an incredible mystery with dynamic characters, plot twists and vibrant storytelling," says ND Brown, CEO, Tri Destined Studios.  "We are excited to be part of this dream team collaboration."  The super team recently wrapped production on three more projects, No More Mr. Nice Guy, and two more adaptations from Carl Weber, The Preacher's Son and The Choir Director.
Other Tri Destined Studios releases include, Black Coffee, a romantic comedy (select AMC theaters, 2014),  Note To Self, He's Mine Not Yours, Four Seasons, Perfect Combination, UP TV's Where's The Love, the Art House film Why Am I Doing This?, and She's Still Not My Sister, which broke network ratings and became GMC's premiere Television Mini Series. Studio executives include ND Brown (CEO), Trey Haley (President), Gregory Anderson (President of Film) and Veronica Nichols (VP of Production and Development).
WATCH the trailer The Man in 3B here.