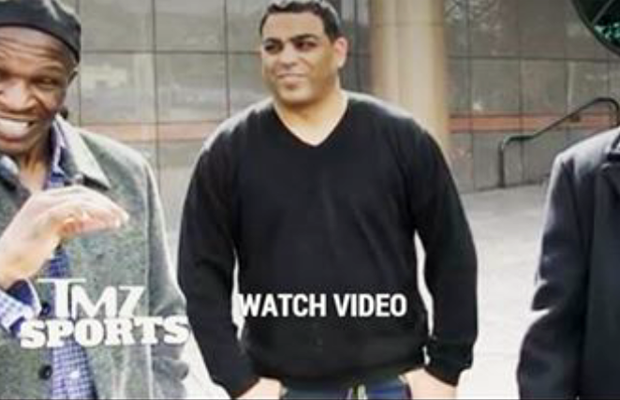 Steven Marcano is the best kept secret in the business world. He's conquered Wall Street, is the first African American to be create a start-up diaper business, a Television producer and a vibrant visionary. His accomplishments have soared beyond the most well-known figures in the elite world of marketing and media. However, Steven Marcano has remained under the radar so his name does not ring out as a leader in the community like it should, even though he has initiated and closed deals worth billions of dollars.
Boasting a business prospectus that reads like a made-for-TV movie, here is a slight history of the golden hits this marketing genius who hails from the South Bronx has knocked out of the park over the last 25 years:
1995: Marcano produced and created the Visual Awards Show which was held at the United Artist Theater on Broadway. This production was the first complete Urban Awards Show to take place in Times Square. It featured Jay Z as the headliner and was attended by financial greats like Bert Padell and many other heavy hitters. The show was completely sold-out. 90 days later, a Canadian Media Company bought the concept. Marcano walked away and the show became a failure without him.
1996: Marcano put Vince McMahon and Mike Tyson together for Wrestlemania. This was Mike Tyson's biggest payday outside of boxing and the WWE's largest PPV telecast at the time. This was a major due to the fact that WWE was going public at the same time.
1998 thru 2002: He showcased footage of O.J. Simpson through music tours that boasted top artists Wyclef, Foxy Brown, Fabolous, and more. The tour was a major financial success that was sold to become a documentary series.
2004: Founded My Lil Star Baby Products company, which is still in business and has sold millions of dollars in goods..
2005: Marcano signed Boxing Pay-Per-View bout King/Floyd "Money" Mayweather Jr. to Nrage Sports Management.
2007: Following the sale of Scunci to Conair, which was the back office for My Lil Star Baby Products, Marcano began the task of restructuring MLS.
2008: Marcano entered the magazine publishing world becoming partners in Toy Box magazine with Flo Anthony, who secured a 90 percent distribution via newsstands and stores.
2009: Marcano created Building A Brand, the first Reality TV show about entrepreneurs. Although the show featured Black America's most successful business people such as Robert Johnson, Cathy Hughes and J. Alexander, along with a cast of A-list celebrities, he could not find a home for it because of lack of financing.
2011: Marcano brokers deal for Don King and Wealth TV.
2012. Marcano, Ray J and JoJo Ryder create Insiders Look for Wealth TV.
2012: Marcano secures financing for Mike Tyson's promotion company IMP.
2013: Marcano relaunches MLS which is available everywhere including major Box stores in 2016.
2013: Marcano creates boxing's biggest reality show Knockout which stars Floyd Mayweather Sr, Ruben Guerro, Roy Jones, Jr., Sugar Shane Mosley and other boxing greats.
The filming of the third season starts March 2016.
2015: A major deal with a casino and Hollywood agency will soon be announced.
Many have often asked this brilliant man if he is upset that he is not recognized for his work and philanthropy efforts with Karat in a St. Francis Hospital and Diaper Banks throughout the country..
People also wonder why isn't a Mover and Shaker and Trailblazer such as himself considered when people speak about Black America's elite businessmen?
Says the humble Marcano: "I know exactly why I'm here. I'm a very creative person who can take something from nothing and build it into a commodity. And I have always been ahead of the curve. With Mayweather I knew he was great, but I didn't control Nrage, the investors and the people who did. They didn't believe enough in me, But AL Haymon did and now he is the King of boxing. My Lil Star has become a monster company, and Jessica Alba proved with her company Honest, when she received a billion dollar evaluation that baby products companies are valuable. We did everything Honest did but the people around me at the time didn't have enough faith in me like her team did in her. Knockout is bringing billion dollar casinos and major entertainment companies together, but sometimes I feel the network, casino or my team may not believe enough in my ingenuity."
On possessing ideas that went on to become billion dollar deals such as Floyd Mayweather Jr., who is now with Al Haymon becoming a multibillion-dollar boxing franchise, and creating an independent diaper company way before Jessica Alba conceived Honest, Marcano says: "I feel blessed that I was a part of great deals. But I'm hurt, disappointed, angry and upset that the people around me didn't believe in my vision. But I believe in me and I'm making bigger deals in 2016. MLS is back, Knockout is here and I have a couple of shows being developed, I'm good. I really hope that I finally have the right team around me. My New Year's resolution is to rebuild, re-brand and only deal with people who want to win big! It is time to get rid of the negative energy that has held me back in the past."