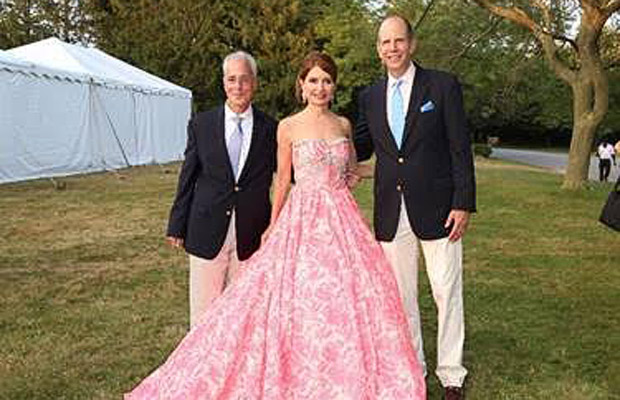 The Southampton Hospital hosted the 58th Annual Summer Party on Saturday, August 6th in support of Jenny and John Paulson Emergency Department, the sole provider of emergency care in the South Fork. The exclusive party took place at the corner of Wickapogue Road and Old Town Road in Southampton, NY.
Prominent philanthropist, author and longtime Southampton Hospital supporter, Jean Shafiroff, attended the event in an original Victor de Souza gown. She is no stranger to the Annual Summer Party as she has chaired the event three times before. Shafiroff's philanthropic efforts has made her the most successful benefit chair – raising a total of 5.4 million dollars in support of Southampton Hospital over the years.
In June, Jean Shafiroff opened her home to 100 fellow supporters for the announcement of Southampton Hospital's Phillips Family Cancer Center. The cocktail party celebrated the Southampton Hospital for recognizing the need for a cancer treatment center in the Hamptons.
The lavish summer party was produced by Lawrence Scott Events. The tent was a glowing gold with table centerpieces to match, and dark wood accentuated the sumptuous buffet. The rich ambiance set the tone for a luxurious summer party. Proceeds reached 1.3 million dollars and funded the highly trained team at the Jenny and John Paulson Emergency Department.
Additional notable attendees included: Jean Shafiroff, President Robert Chaloner, VP, Robert I. Ross, Senator Ken Lavelle, Lawrence Scott, Chuck Scarborough, Steve Bernstein, Jay Schneiderman, Robret Zimmerman, Steven Bellone, Mayor Mark Epley, Lucia Hwong Gordon, Debra Halpert, Sara Herbert-Galloway, David Greenberg, Alina Cho, Congressman Lee and Diana Zeldin, Victor de Souza,
For more information, visit: http://jeanshafiroff.com/
Facebook: Jean Shafiroff, Style & Philanthropy
Twitter: @JeanShafiroff
Instagram: @JeanShafiroff
Save