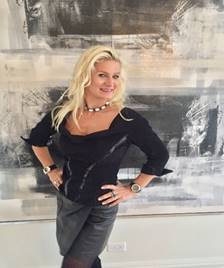 Margo Manhattan (Photo Credit: Luciana Pampalone)
Celebrity jewelry designer Margo Manhattan ̶ whose celebrity client list includes Beyoncé, Selena Gomez and Amber Heard ̶ celebrated the upcoming launch of her newest HSN jewelry collection with an Exclusive Previewing Reception at luxury apartment building 199 Mott Street.
Guests viewed a selection of Margo's jewelry exclusively for HSN as well as pieces from her Petra, Knight Ryder, Rock n' Royal and Metro collections. Each of the collections displayed showcased Margo's unique design aesthetic, which combines the beautiful femininity of the ballet, with the rock 'n' roll chic of New York City. Guests enjoyed cocktails and hors d'Oeuvres while also viewing Residence 7 which is listed at $6.75M by Caroline Aim and Colbert Holland Warfield of Keller Williams.
Margo's new collection aired on HSN in March 2017. Since her successful launch on HSN in January 2017, Margo's cutting edge jewelry is now available to over 95 million viewers across the country, on HSN Live TV. She is part of HSN's elite roster of celebrity designers. Following her sold out Lips collection, Margo's newest, highly anticipated collection, is an HSN exclusive jewelry line featuring layered chain bracelets, black leather chokers with enhancer pendants, leather bracelets, and endless chains in sterling silver with bold gemstones, which show off the range of Margo's creativity and her love for elegant yet edgy jewelry designs.
On Margo Manhattan's e-commerce website MargoManhattan.com, you can experience the full breadth of her Signature Designs. Do not miss "The Vault," a stunning collection of one-of-a-kind jewels, featuring diamonds, emeralds, sapphires and more set in white and yellow gold as well as platinum.
Visit www.HSN.com (keywords: Margo Manhattan) for more information. Join the conversation on Facebook, Instagram and with Twitter, @HSN.
About Margo Manhattan
Margo Manhattan, an internationally-renowned jewelry designer, born into a life of art, beauty and culture as the daughter of prima ballerina Karin von Aroldingen and god-daughter to ballet legend George Balanchine. Margo derives inspiration for her designs from the fast pace of New York City and ballet worlds theatrical scenes. Margo's designs are bold, edgy, yet elegant and sexy. She began dreaming of becoming a jewelry designer when she was a child and started making jewelry in the byzantine technique at the age of 15. As she grew, her passion for metals, stones and jewelry making evolved.
Bold, dynamic and sexy define the Margo Manhattan brand which celebrates Margo's philosophy of enhancing beauty. Margo aims to create a variety of looks through mixing and matching different types of chains, leather, pendants and necklaces which combine to display her signature styling. "The piece finds the person," says Margo, who immediately focuses on each client's unique features. She reflects every individual's beauty by custom tailoring a look and design, whether it is for everyday wear or for a wedding, engagement or other special event. Additionally, Margo Manhattan supports several charitable causes. She designed the first pin to commemorate Earth Day (1990), the original red pin for AIDS awareness (1991) and shortly after developed the pink ribbon for Estee Lauder's Breast Cancer Research Foundation.
For more information, please visit: www.margomanhattan.com
F: Margo Manhattan | I: @MargoManhattan | T: @MargoManhattan
Save