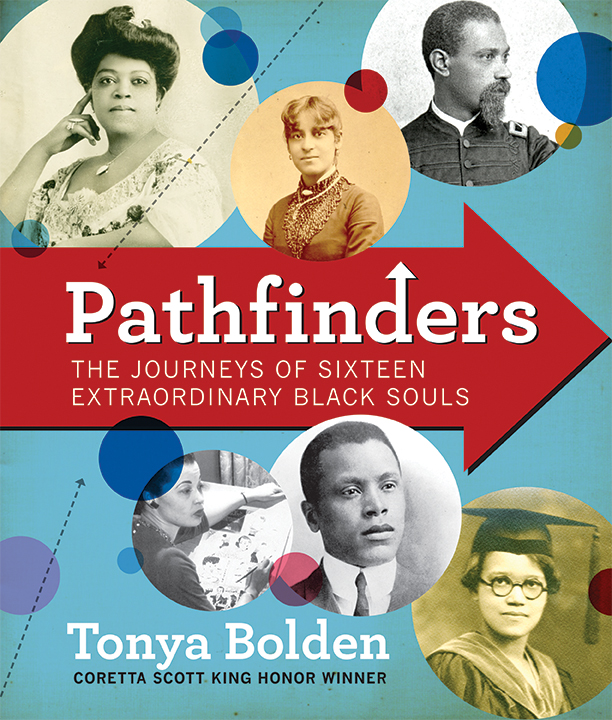 PATHFINDERS: The Journeys of Sixteen Extraordinary Black Souls by Tonya Bolden invites readers to travel back in time and meet some of the extraordinary black men and women in America who have achieved great things against the odds. These are people who dared to dream, take risks, and chart courses to success
On March 18, 2017 events will be held in 8 cities (Atlanta, Baltimore, Chicago, Los Angeles, New Orleans, Philadelphia, and Raleigh) to honor those in the books and celebrate the Pathfinders in our communities.
This is also Women's History Month and a great time to spotlight some of those who have charted new frontiers. Like…..
 Sissieretta Jones an Opera Singer who did a nine city European Tour in late 1894
 Maggie Lena Walker the first black woman to run a bank in 1903
 Mary Bowser who in 1995 was described as "one of the highest-placed and most productive espionage agents of the Civil War."  In essence she was a government spy.
 Sadie Tanner Mossell Alexander the first African American to be admitted to the Pennsylvania Bar, one of her many first.
 Katherine Johnson, a mathematician who was instrumental in putting U.S. astonauts on the moon.
The book also examines the lives of:
Venture Smith, prince
James Forten, entrepreneur
Richard Potter, magician
James McCune Smith, physician
• Allen Allensworth, town founder
Clara Brown, pioneer
Charlie Wiggins, race car driver
Eugene Bullard, combat pilot
Oscar Micheaux, filmmaker
Jackie Ormes, cartoonist
Paul R. Williams, architect
Come out and share stories of your Pathfinders.  Books will be available for purchase and support the activities of The African American Children's Book Project.
For more information email: read@theafricanamericanchildrensbookproject.org
Save
Save