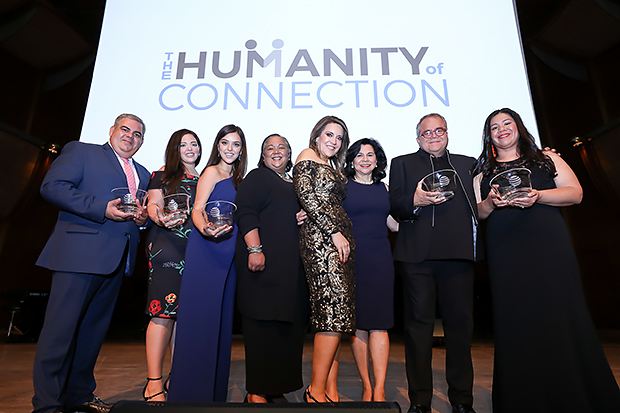 AT&T HONORS ARMANDO LUCAS CORREA, EDITOR IN CHIEF OF PEOPLE ESPAÑOL & MÓNICA RAMÍREZ, CO-FOUNDER & PRESIDENT OF ALIANZA NACIONAL DE CAMPESINAS AT THE HUMANITY OF CONNECTION CELEBRATING THE REMARKABLE ACHIEVEMENTS OF HISPANIC CULTURE
 Film Entitled "The Humanity of Connection" Screened Directed by Rafael Jimenez & Introduced by Video by Acclaimed Filmmaker Robert Rodriguez
WHO:
Rafael Jimenez, Director of The Humanity of Connection film
Armando Lucas Correa, Editor-in-Chief of People Español
The Humanity of Connection film that w
as
screened is directed by Rafael Jimenez who has been committed to creating compelling content for over two decades.  Jimenez is passionate about quality story-telling and creating content that features Latinos. Acclaimed filmmaker Robert Rodriguez will introduce
The Humanity of Connection
film via video.
The Humanity of Connection
was co-created by Tanya Lombard and Executive Producer Keith
Clinkscales
to celebrate the power of human connectivity and the technologies that chronicle and connect the remarkable achievements of the Hispanic Culture. This Humanity of Connection focuses on the unique power, presence, integrity and culture of Latino people along with several key Latin American executives at AT&T. Among the themes that will be celebrated includes the positive impact Latino's have on America's economy and business, Latinos increasing role in American government and leadership, the value and humanity of migrant workers, celebrating the diversity within Latino culture in the US, and the power of Hispanic image in the arts, film and print.
About AT&T:
AT&T Inc. (
NYSE:T
) helps millions around the globe connect with leading entertainment, business, mobile and high speed internet services. We have the nation's largest and most reliable network** and the best global coverage of any U.S. wireless provider. We're one of the world's largest providers of pay TV. We have TV customers in the U.S. and 11 Latin American countries. Nearly 3.5 million companies, from small to large businesses around the globe, turn to AT&T for our highly secure smart solutions. AT&T products and services are provided or offered by subsidiaries and affiliates of AT&T Inc. under the AT&T brand and not by AT&T Inc. Additional information about AT&T products and services is available at 
about.att.com
. Follow our news on Twitter at @ATT, on Facebook at 
facebook.com/att
 and on YouTube at 
youtube.com/att
. © 2018 AT&T Intellectual Property. All rights reserved. AT&T, the Globe logo and other marks are trademarks and service marks of AT&T Intellectual Property and/or AT&T affiliated companies. All other marks contained herein are the property of their respective owners.** Coverage not avail. everywhere. Based on overall coverage in U.S. licensed/roaming areas. Reliability based on voice and data performance from independent 3
rd
 party data.