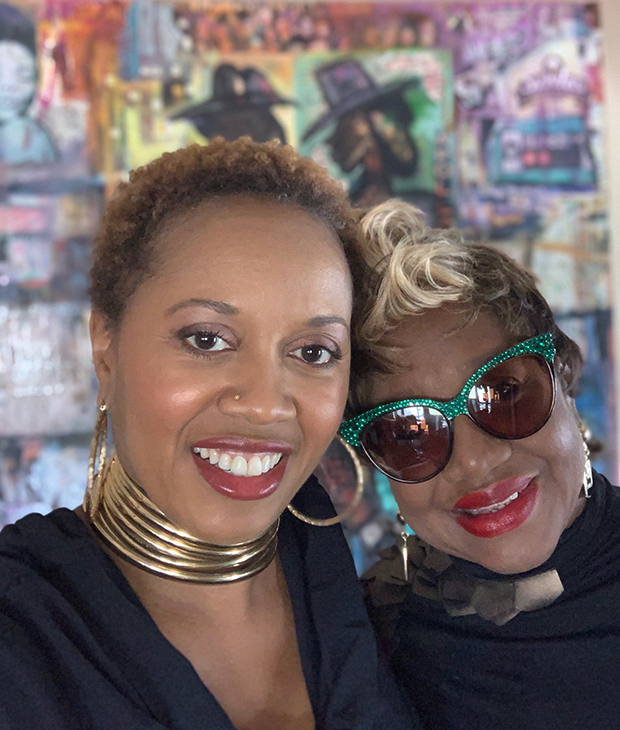 (New York) For over a year, Mira Gandy has been creating an Arts organization that would serve as a legacy to her mother, legendary Tony award-winning producer/publicistIrene Gandy. In March,  Covid-19 invaded the world and everything was put on PAUSE. Mira moved from her apartment in Harlem to her mother's Greenwich Village home to ensure that Irene is taken care of while sheltering in place. As the the weeks of quarantine turned into two months,  the mother/daughter team found new ways to express their talents.  So, to commemorate Mother's Day, on May 9 and 10 at 3 pm on Zoom, they are launching The Gandy Art House.
The Gandy Art House is designed to provide creative opportunities for youth, families and the LGBTQ+ community, to engage in visual, performance and healing arts'projects and events. Its first events will launch virtually. "I was really looking forward to creating this arts space for families and children and particularly for the LGBTQ+ community as a tribute to my Mom and have this building that would be a legacy to her and our family, but with the COVID-19 pandemic, everything is different.  I talked to my Mom and realized the arts are needed now more than ever, as well as a safe space for creatives for healing.  To provide healing is needed more than ever. With all that's taking place on the internet now because of this pandemic, we can create a safe space globally with The Gandy Art House and start now," states Mira Gandy.
The Gandy Art House represents the Gandy family's commitment to the arts by using the arts to create connections, bond and heal. The Gandy Art House will have live arts events in visual and performing arts for youth and their families. A Kids corner that will offer art activities and classes and showcase children's artwork and the Q Art Space will offer arts programming and safe space for Queer youth and allies to create visual and performance art.
 Irene Gandy, is the first and the only female African-American press agent in the Association of Theatrical Press Agents and Managers on Broadway. Since her career began in 1968, she has worked on over 100 Broadway shows across press, marketing and community outreach. A Broadway legend, Gandy also co-produced "Lady Day at Emerson's Bar and Grill" (2014) and "The Gershwins' Porgy and Bess," which won the 2012 Tony Award for Best Revival of a Musical. In addition to her work in theatre, Gandy was associate director of special markets for CBS Records, where she worked with Earth, Wind and Fire, The Jacksons, Patti LaBelle, and more.
Mira, though she didn't follow her Mother's footsteps in working on Broadway, has still made, and is continuing to make her mark in the arts. She is a visual artist whose paintings, collages, videos and installations examine issues related to women, identity, beauty, race, history and their intersection in media and culture. Gandy studied at the American University in Paris, France, and holds a Bachelor of Fine Arts degree from the University of Southern California Roski School of Art and Design where a Black Alumni Scholarship was created in her honor. Gandy has over 20 years of teaching experience in personal art instruction with youth and adults of all ages and is the recipient of the 2012 National Action Network Woman of Excellence Award for her advancement of women and children in the community.
The Gandy Art House is launching as a virtual safe space with events this Saturday & Sunday, Mother's Day Weekend. Saturday, May 9 th at 3pm via Zoom. The Gandy Art House presents "Mom & Me – The Art Experience." Mother's Day, Sunday, May 10 th at 3pm via Zoom it's "Art & Groove: The Mom Edition." Registration is required for both events. For registration and more information email TheGandyArtHouse@gmail.com. You can also learn more at miragandyart.com.