By Dedra N. Tate: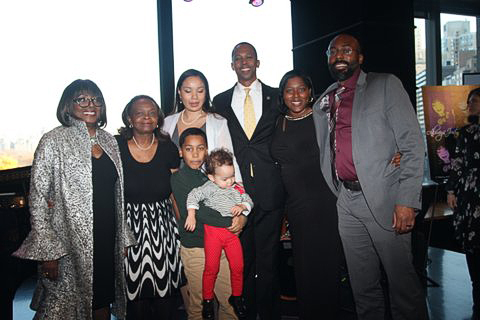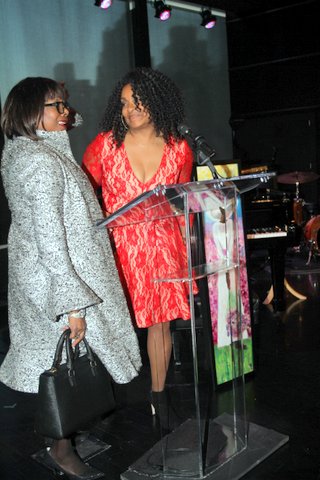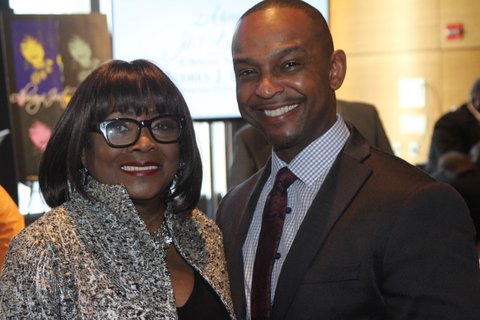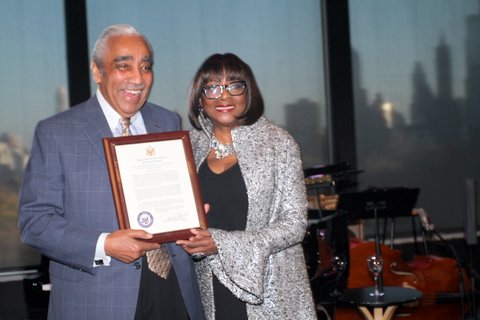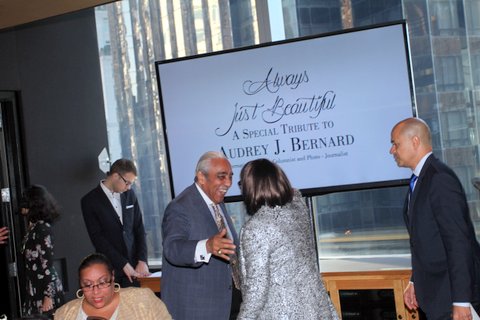 It was a tribute fit for a Queen and my Godmother Audrey J. Bernard, International Society Columnist and Photo Journalist and the New York Beacon's esteemed Society Editor, deserved EVERY majestic minute of it!!! Looking regal in a b michael design from his celebrated couture line, the "Always Just Beautiful" tribute/birthday brunch that took place on Saturday, December 5, 2015 from 11:30-2:30 was a STELLAR affair. Dizzy's Club Coca-Cola, Jazz at Lincoln Center (JALC ), Frederick P. Rose Hall, Broadway at 60th Street, NYC was set-up beautifully and NO expense was spared in putting this event together!!! Florist to the stars and beyond Saundra Parks of Red Maple Leaf filled the room with Audrey's favorite flower, Calla Lilies.
The afternoon was full of love, gifts, musical tributes, proclamations, declarations, commendations and libations (compliments of Moet Hennessey USA) in front of 120 of her closest family and friends, who all left with Henri Bendel magazine tote bags FILLED to the top with FAB-U-LOUS gifts that included earphones, charger, candle, and $20 splurge card from Henri Bendel; Bergdorf Goodman/Lancôme gift certificate; chico's fashion necklace; Ciara CD; Macy's gift card; and artwork by Mira Gandy !!!
NBC4 News Anchor David Ushery was a true MASTER of Ceremony for this very special tribute/birthday celebration. He kept everyone in stitches as he led us through the jam-packed program that included well wishes and "Congratulations" from President Barack Obama & First Lady Michelle Obama, Governor Andrew Cuomo, Mayor Bill de Blasio, former Mayor David N. Dinkins, NYC Comptroller Scott M. Stringer, Brooklyn Borough President Eric Adams, Manhattan Borough President Gail Brewer, Congressman Hakeem Jeffries, NYS Senator Velmanette Montgomery, and more. While guests enjoyed fried chicken and waffles, shrimp and grits and Bellinis, Mimosas and "The Audrey Martini," from the stage, her immediate family — Sister Marilyn Mosley, Nephews NYS Assemblyman Walter T. Mosley, III, and Dr. James Jennings Jr. brought everyone to tears with their expressions of love…including a citation from Assemblyman Mosley, as nieces Dr. Janice Carrero Mosley and Sameita Jennings, grandnephew Sebastien Alexander Carrero Mosley and grandniece Allyson Eh-Suk Mosley lovingly looked on.
During the celebratory toast and dessert, the always dapper Congressman Charlie Rangel presented the beaming tributee with a declaration proclaiming December 7th "Audrey J. Bernard Day!!!" She was also presented with an original painting from the original fine art collection of M. Gasby Brown and a beautiful black bag from Henri Bendel's West 7th Street Turnlock Satchel collection with her initials inscribed on the front in gold lettering, presented by HB's Vice President of Marketing, Jessica Dennis who also brought greetings from her boss, Henri Bendel's CEO Chris Fiore. Entertainment was provided by Alyson Williams who performed a show-stopping Diana Ross medley from "Lady Sings the Blues" (Audrey's favorite artist) and jazz vocalist Camille Thurman. Vivian Reed led everyone in singing Happy Birthday while presenting her with a cake.
Some of the guests in attendance included Ambassador Suzan "Sujay" Johnson Cook who delivered an inspiring invocation, Reginald "Reggie" Van Lee, Dwayne Ashley, Gasby & Kenneth Brown, Congressman Charles B. Rangel, Alma Rangel, Annette Gibbs, Carole Munroe, La'Verne Perry-Kennedy (who designed the "Always Just Beautiful" artwork), Sandra & Robert Tate, Jeanine Tate, Robbie Tate-Brickle, Katie Jones​, Jim & Joanne Skeete, Ruth Sanchez, Susan L. Taylor, Khephra Burns, Sherry B. Bronfman, Jean Wells, Audrey Smaltz, Barbara J. Harris, Ruth Inniss, Veronica Jones, Connie Thomas Staton, Ruth Clark, Sylvia Rhone, Mae Attaway, Vivian Scott Chew​, Ray Chew, Harriet Michel​, Jeanne Parnell, Carmen Barnes, Karu F. Daniels​, Wilson Morales, Diane Clear​, Steve Manning, Pat Stevenson, Ruth Clark, Robin Verges, Ruth D. Hunt​, Winnie & Mapple Walker, Cynthia Horner, Patricia Hinds, Candice Jacko, Vanessa DeLuca, Sheila Harris, Dana Baxter, Cynthia Horner & Ken Harris, Irene Gandy, Mira Gandy, Thomasine Barton-Gangadean​ and from the New York Beacon — Walter & Miatta Haj Smith, Don Thomas, Edna Sarr, and Audrey Adams.
There was even a video tribute sent in from Walt Disney World Public Relations team; a special message from Disney's first African American doll, Princess Tiana; and greetings from Disney Dreamer's Academy representative Mikki Taylor; followed by a special presentation by two of Disney's top executives Annette Gibbs and Carol Munroe who presented her with a limited edition Princess Tiana basket filled with Disney treasures and their coveted "Mouscar" award which is their equivalent of the "Oscar!"
Then it was Audreytime. Ravishing from head to toe, the radiant tributee thoughtfully thanked the event's Presenting Sponsors Jazz at Lincoln Center, The Reginald Van Lee Foundation and The Gasby Group, Inc; Contributing Sponsors (Henri Bendel New York, NBC4-New York, Moet Hennessy USA, Red Maple Leaf, The Williams Capital Group, Viacom, chico's, Epic, Harlem Skin & Laser Clinic, William Wolf and Lancome Cosmetics); her guests; and gave HUGE KUDOS to Event Chairs Reginald Van Lee, Vice President at Booz Allen Hamilton's Washington DC location where he leads the firm's commercial business, and JALC Artistic Director Wynton Marsalis; Co-Chairs Dwayne Ashley, Vice President of Development at JALC, and M. Gasby Greely Brown, CEO, The Gasby Group, Inc.; Guest Chefs Melba Wilson, Melba's Restaurant, and Norma Jean Darden, Dizzy's Club Coca-Cola, for the delicious menu; and the FAB-U-LOUS host committee with special mention to JALC's Divya Kantamneni, La'Verne Perry Kennedy, Rachel Noerdlinger, Robin Verges and Diane Thompson whose generous b'day gift to her friend was roving photographer Tone Fleming who captured precious guest moments throughout the event and presented the photos to each guest. No one wanted to go home so JALC's top executive Dwayne Ashley extended the fun and invited guests to join him at the spotless steak restaurant Porter House on the 4th floor of the luxurious Time-Life Building. And a merry good time was had by all! (Photos by Tone Fleming)