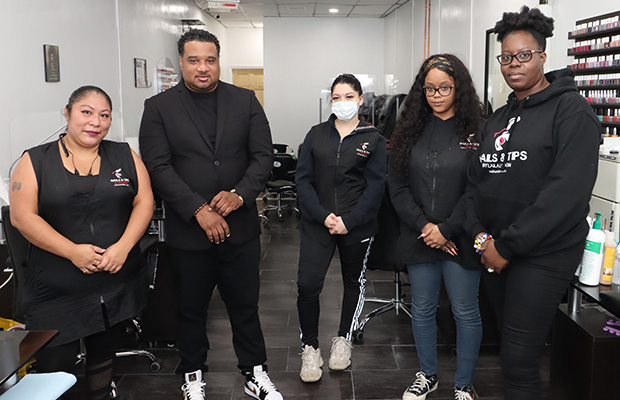 During the 1990s, Bronx native Alize Jones was an enterprising record label executive who managed artists and created music for those in the hip-hop world. Today, he's the founder of the successful beauty salon Nails & Tips by Laila London, which enjoyed its grand opening in the Bronx in late September, 2020.
Nails & Tips by Laila London's mission is one that is not only unique but goes up and beyond the standard of excellent customer service.
"Our mission is to create a customer service friendly business that is family oriented and welcoming to both sexes, male and female," says Alize. "In the customer service area we provide transportation for those who live within a one-mile radius of the business if one makes a deposit of 15 percent towards the cost of receiving a manicure and pedicure."
Born and raised in the Bronx, Alize's journey in serving the community and its people started during his youth, beginning with his work with the New York City Housing Authority. While working for one of NYC's largest and most demanding departments, Alize met up with a girlfriend who worked for hip hop legend and Bronx native, KRS-ONE, and started working with the rapper/educator with his business. From there, other music business friends came to him for help, which led to his rise in the industry to label executive with Arista Records.
Alize credits his work within the recording industry for helping him further establish the salon.
"When I launched the salon, I resourced the skills I developed on the business side of the recording/music industry for Nails & Tips by Laila London.," says Alize.
With the entire world still reeling from the COVID-19 pandemic and its after-effects, Nails & Tips by Laila London came ready with what is required now to be in the cosmetology business which includes glass-partitioned stations that are socially distanced and temperature checks for both clients and employees.
Nails & Tips by Laila London is located at 3740 Third Avenue, Bronx, NY 10456, 347-590-0826.