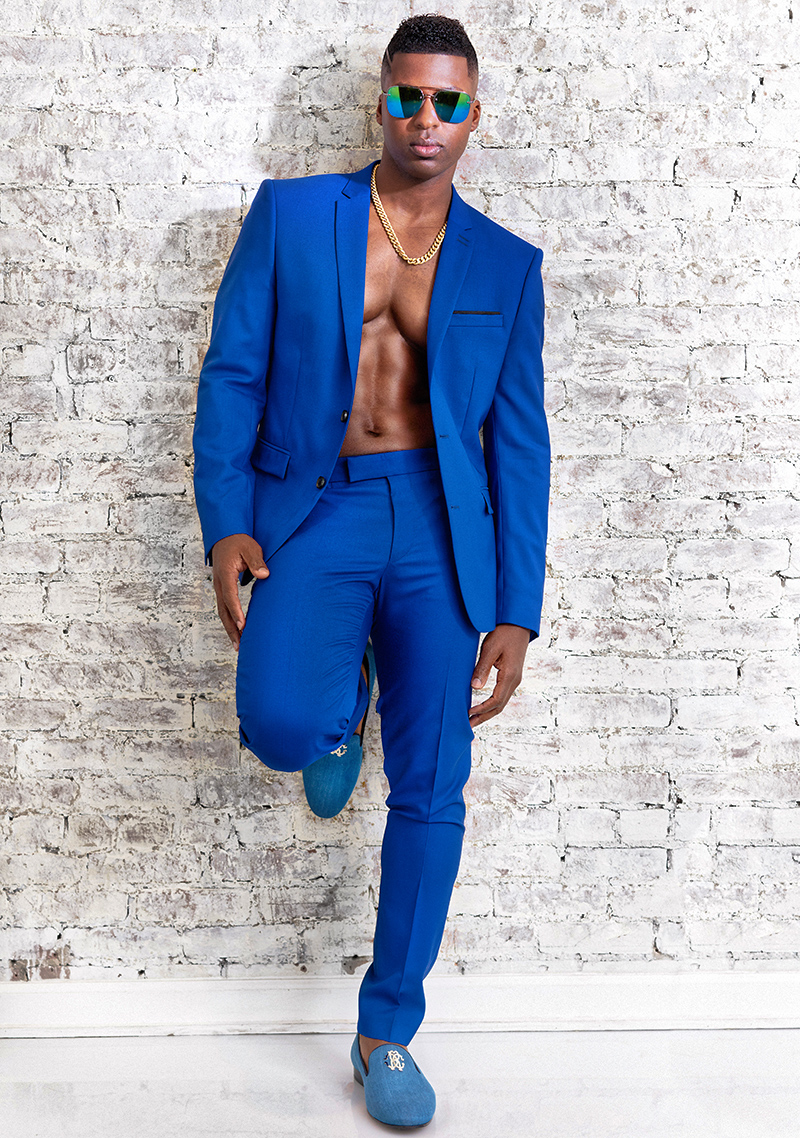 Currently working in the studio with Grammy-award winning producer Teddy Riley, Singleton is the total package. Singleton is an amazing performer, a gifted songwriter and a trailblazer whose striking physique is as known to consumers as his arresting face.
Born on an island off the Atlantic Coast of Georgia, Singleton has always had a desire to perform, keep fit, and be the best that he can be. "I've been training for years. Since my father is a military man, I've always had the work ethic and the drive to stay in top physical condition. As a result, when I first moved to New York, I was able to get signed by a model management agency.  That's what kept me together and in shape."
Although blessed with cover material looks, Singleton soon found that he was unable to squeeze into the standard male model sample sizes.  "Because of this, I found a niche as what's known as a parts model, so people may have seen me in anything from a single hand in a cell phone ad, to a torso on an underwear box, to my entire self in a jeans campaign."
Singleton's strong, keen features are an artist's magnet and many of the top artistic professionals in the country have captured his image for their portfolio of work.  For example, Kehinde Wiley, the artist who painted former President Obama's celebrated official portrait for the Smithsonian Museum, has used Singleton as the subject of three of his monumental oil portraits.  "He just wanted to paint me.  It was as simple as that.  It was truly an honor and still is one of the most memorable events of my career."
But despite his successes in the modeling world, Singleton's real passion and talent is in music.  "I enjoy all aspects of the creative process of music, from writing lyrics to live performing to studio recording.  Probably my favorite aspect so far is the emotional connection you can make with an audience during a high energy performance.  It truly is amazing to experience."
In addition to his own performances, he has had many defining moments in his relatively short career.  Several years ago he was seen on stage as one of the shirtless Pharaohs who carried the queen bee of music, Beyonce, around the concert stage before the impressed eyes of thousands during her "Ladies First" tour.  "That was an amazing experience," Singleton recalls at the thought of the exposure he received on such a high profile tour.  He has performed on such media outlets as The View and VH1's Fashion Rocks.  He also appeared with Josh Groban on live performances for The Late Show with David Letterman, Good Morning America, and Live! With Regis and Kelly.  The versatile entertainer has also accompanied Grammy greats Alicia Keys and John Mayer on the song "No One" at the Foxwoods Resort Casino in Connecticut.
Most recently, Singleton has been recording material for his upcoming EP. "I'm extremely excited to be working with an amazing team.  I think we all feel this album is going to bridge a gap in today's R&B/pop market. I can't wait for its release."
A self-described motivated, highly driven individual who has traits of old-fashioned Southern hospitality deeply ingrained in his soul, Singleton is on the verge of becoming the breakout star to watch.  Clearly, with his impressive array of accomplishments and willingness to stay true to his artistic course, Singleton has the whole world in his hands.