Story & Photos by Lieba Nesis |
Narciso Rodriguez held his Fall 2016 show at Stage 37 between 10th and 11th Avenue, on Tuesday February 16 at 8PM.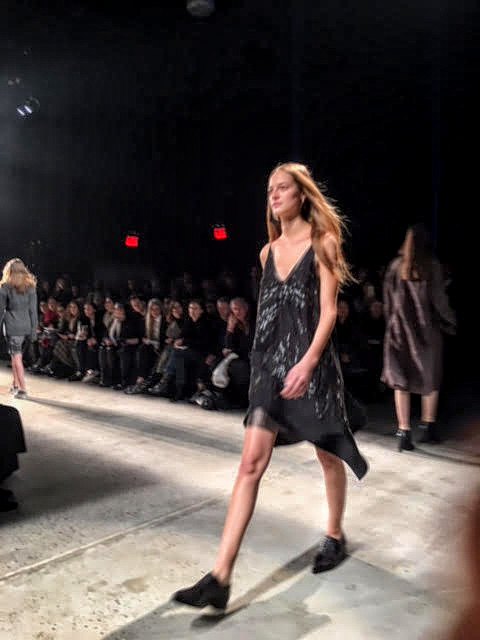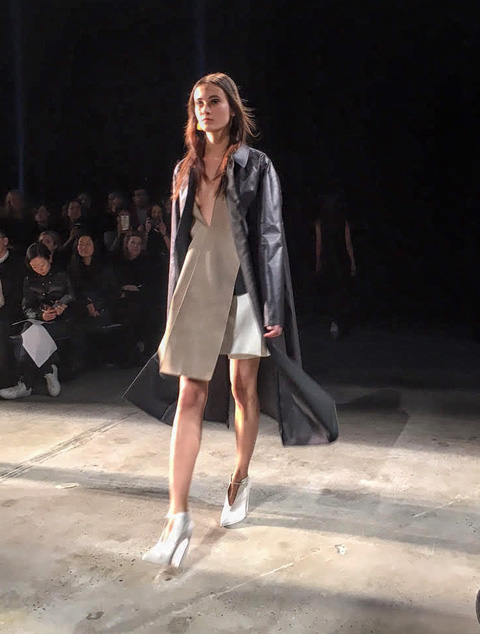 The kind of gravitas one must have to gather Linda Fargo, Ken Downing, Suzy Menkes and hordes of others to a small venue in the middle of nowhere at a late hour cannot be underestimated. Furthermore, the crowd was full of high-end sophisticates, carrying a Birkin bag in one hand and the latest iPhone in another. Narciso is a 55-year-old American designer who won the CFDA best womenswear designer award in both 2004 and 2005. He was born to Cuban parents and grew up in Newark, New Jersey. After working at Anne and Calvin Klein he skyrocketed to fame when he designed Carolyn Bessette's gown for her 1996 wedding, launching his eponymous label in 1997. His clients include Michelle Obama, Salma Hayek and Sarah Jessica Parker. This diminutive Cuban is quite a powerful force in the fashion community and his low key demeanor belies his prominence.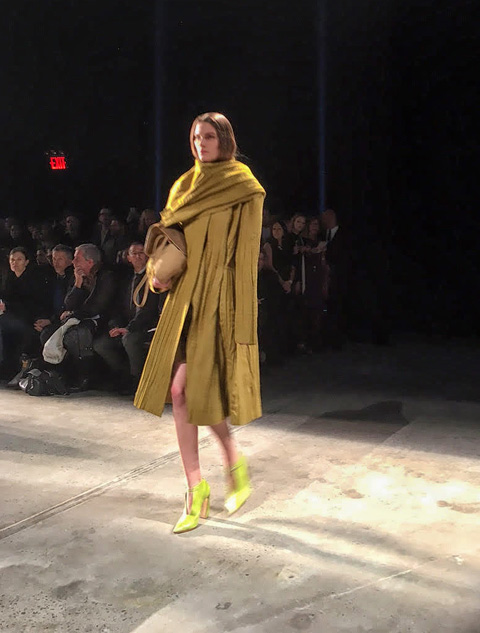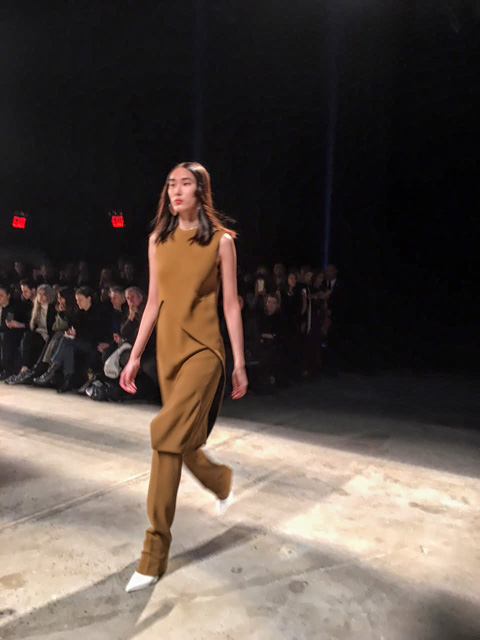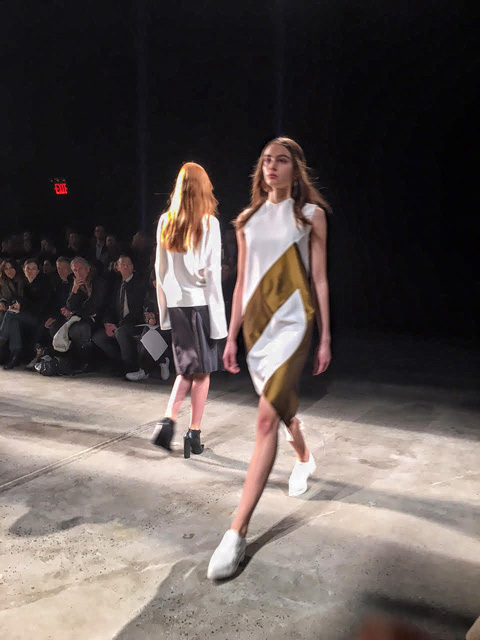 As the crowd gathered to view the 33-piece collection, it was noteworthy that his first garment was a white wool wrap coat with black lace-up flats. The next garments contained both black and white dresses and coats all with onyx lace shoes which were both masculine and utilitarian, an interesting contrast to the feminine dresses. Narciso had the models entering from one area and walking up and down different runways while crossing each other, allowing everyone to view the garments; however, the effect was dizzying and left me baffled as to whether this was a dress I had already viewed. His use of green and sulphur with green and black ankle boots was sultry and desertlike, conveying "Lawrence of Arabia" meets Soho bohemian. Narciso is the king of understated chic and his love for black and white and bold geometric shapes is omnipresent in his collections. Tonight, he effectively paired sleeveless dresses with matching trousers repeating a trend that has been shown on the runways for the past several years. My favorite look was the black paper silk coat, with the stone harness top and chalk wool panel skirt with matching white boots because it was streamlined and edgy with a whimsical asymmetry that was extremely effective. Another winner, was the white bronze paper silk dress with matching white lace-up shoes; there are few designers that do bold geometric slip dresses better than Rodriguez. Matching the granite jacquard coat with aluminum lace-up shoes was sheer perfection-completing the monolithic look with silver earrings. The last two pieces were signature Narciso: an opal velvet simple bias cut dress with matching boots, and an asymmetrical white harness top coupled with onyx trousers and shoes-these looks were simple, sexy and dazzling. At the conclusion of the show, Narciso walked out to enthusiastic applause and hollers-this is a man whose impact on fashion will continue to grow and the smile on his face made it clear that he knew it.