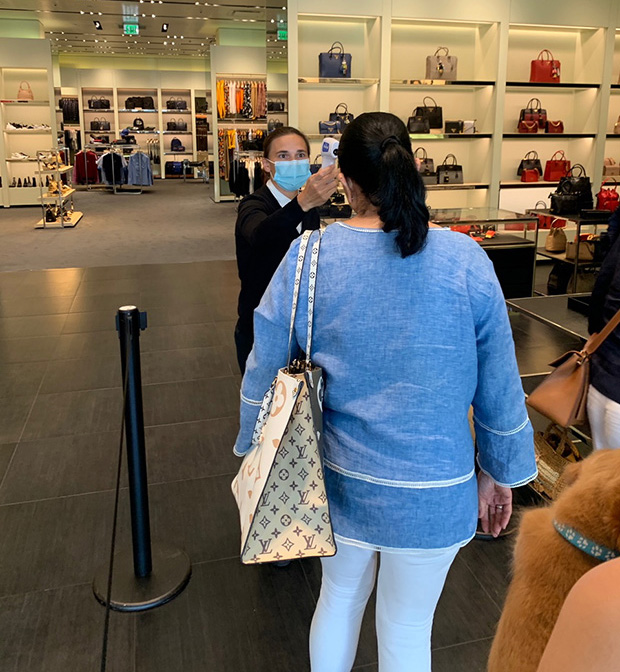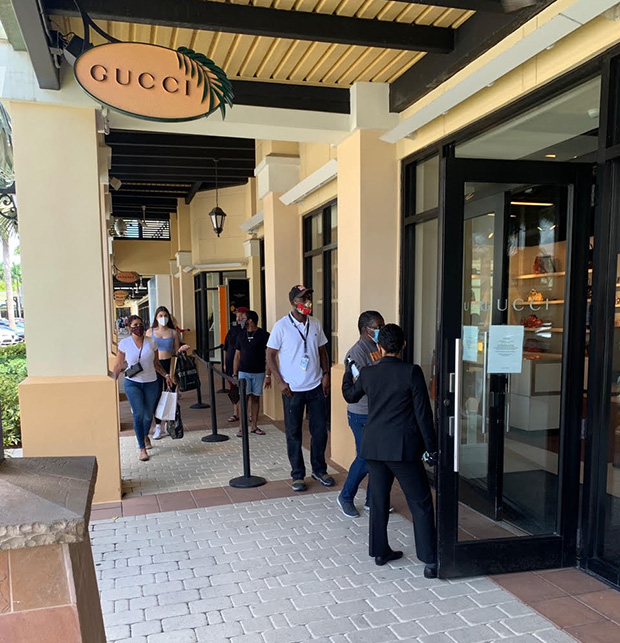 Story and Photos by Lieba Nesis
As Florida awaits Stage Three of reopening, its' coronavirus cases appear to be on the rise with over 2,581 reported on Saturday June 13th-a record high.  The question as to whether more closures will be re-enacted remains to be seen.  The  source of these new infections have largely been attributed to increased testing and clustered cases in farming  and long-term care facilities. 
To assess Florida's safety protocols and simultaneously carry out some much desired shopping I visited one of Florida's most famous malls, Sawgrass Mills, this past weekend.  The level of precautions instituted left me duly impressed.  Located in Fort Lauderdale at 12801 West Sunrise Boulevard, this 2.3 million square foot indoor and outdoor mall, has become a destination spot for thousands of tourists-second only to Disney World in most visited Florida attractions.  Opened in 1990, Sawgrass has expanded four times as it accommodates thousands of suitcase- carrying South American shoppers eager to grab items at half the price.  Operated by the Simon Property Group, it remains the largest single story outlet mall in the US, with luxury stalwarts Gucci, Versace, Prada, Burberry and Dolce and Gabbana part of its impressive 400-store portfolio.
The mall which closed on March 18th reopened on May 18th with reduced hours of 11 AM to 7 PM along with restricted capacity of 50% in restaurants and stores.  Arriving at the outdoor portion where exclusive stores are situated, I was surprised there were no masks being distributed as promised online.  Retrieving my mask which ripped during the one-hour uber ride, I inquired at Neiman Marcus as to whether they could spare a mask-they readily obliged.  Neiman Marcus Last Call is one of my favorite stores in the complex, containing dozens of top designers for half the price.  However, much of the clothing was piled on top of each other resulting in an unwieldy situation.  Furthermore, spending $5,000 on last season's Julien Macdonald dress seemed unwise-even at the 60% price reduction.  I was hopeful the current economic crisis would spur designers to reduce their prices to bargain basement levels.  No such luck-the discounts of luxury goods were status quo with most items over $2,000 even from 2018 collections. 
Regarding safety, every store had one entrance only along with an attendant forcefully dispensing hand sanitizer, leaving me worried as to whether I might sully the clothing with the awful gook.  Moreover 40 dispensers later, my cracked dry hands had me longing for the smoother days of yesteryear where moisturizer not alcohol was all that adorned my long fingers.  Walking around the mall, I felt a sudden surge of melancholy as I viewed the masked faces of excited shoppers.  The joy of staring into a clothing mirror with either a smile or frown had been eviscerated in a matter of months.  I bravely soldiered on despite my lugubrious mindset, waiting on a ten-minute line to enter Versace-which had all of three people inside.  I tried on the jean jacket Hailey Bieber wore on one of her first outings with Justin which was emblazoned with Versace, deciding $715 wasn't worth it even if it was reduced over 50%-unlike Hailey I am unfortunately not married to the deep-pocketed Justin.  Next I stopped by Prada where my temperature was taken and a hand sanitizer thrust upon me, as I surveyed the 30-50% reduction of merchandise from as far back as 2016.
Gucci, which had the longest line and only allowed in 15 at a time, appeared the most promising with shoes and clothing at least 50% off and bags and other accessories 30%; however, the clothing which was nearly 70% off contained clunkers from years ago-why shell out that kind of dough when everyone knows its prior years goodies. I grappled as to whether to buy a dreadfully ill-fitted Paramount T-shirt for $160 reduced from $650 just to own the coveted designer for under $200-but ultimately rejected the unbecoming garment.  The manager said Gucci sales were down 40% from last year, but was hopeful that next months new shipment would be excitedly received.
Venturing to Saint Laurent, which was locked until a sufficient number of the 6 customers had exited, I was again doused with sanitizer which I unwittingly smeared on a $3,000 lace shirt-which was thankfully black.  I remained determined to make a purchase.  Spotting a $130 belt reduced from $990 I thought I might have found the one.  I asked the helpful salesperson if she could try it on.  Realizing how underwhelming the accessory was I quickly exited the store before I wreaked more damage.  Running to Valentino, a sign greeted passerbys that the store would be closed until Saturday at which time private appointments could be made by telephone.  Ralph Lauren, welcomed me inside with the pronouncement that an additional 50% was being offered-the clothing looked more outdated then roller blades.  Escada, St. John, Zegna, and Theory for Men all remained closed.  I wish Marc Jacobs was shuttered-instead of displaying the same old hackneyed bags and puffy tops.  The last hope was The Webster where I spotted a $450 Alexander Wang skirt (from $990) with shorts underneath-that had mine and Wang's name written all over it.  Excited by the thought of one of my first purchases I ran to It's Sugar-my favorite candy store.  They handed me gloves and thongs to grab chocolate malt balls and licorice-further complicating the euphoric experience of enjoying confectioneries.