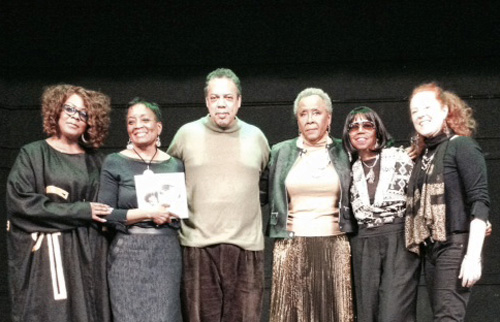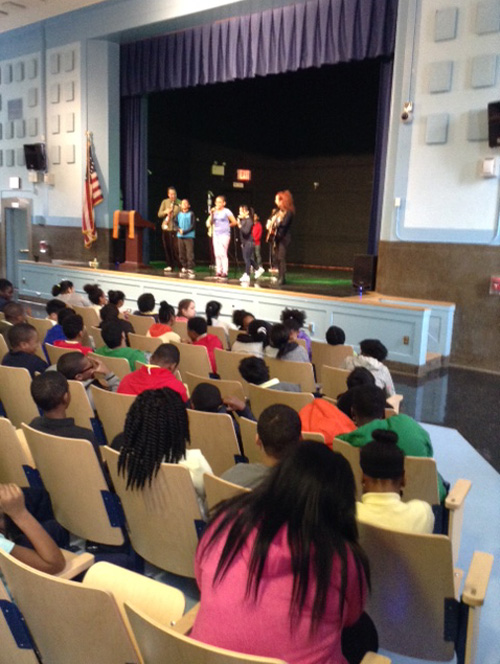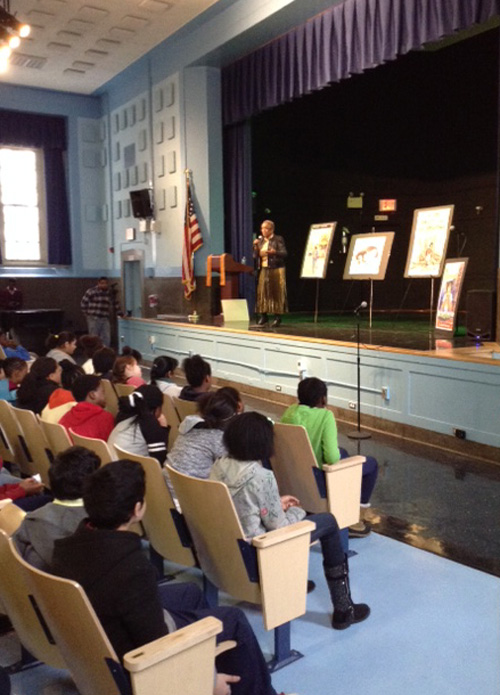 New Experiences Go To P.S. 21 Students Through Author/Poet/Activist Nana Camille Yarbrough and the Bullion Foundation
Students from P.S. 21 (Philip Sheridan School, Bronx, NY) had the opportunity to learn from author/poet/activist Nana Camille Yarbrough and make music with The BulLion Foundation musicians at a special assembly..
Ms.Yarbrough introduced her popular children's books including the classic "Cornrows" and offered words of inspiration and encouragement to the attentive audience of students, teachers and parents. During the program, a Letter of Commendation from Mayor de Blasio and the First Lady of New York was presented to Ms.Yarbrough in recognition of her numerous accomplishments and contributions to society..
The youngsters were treated to musical presentations representing the genres of blues, jazz and, rock by singer/songwriter guitarist Kirsten Thien and trumpeter Duke Jones (formerly of the Grammy-Award-winning group Atlantic Starr).
The administration, staff, students and parents of P.S. 21 are grateful to Ms. Yarbrough and The BulLion Foundation for the donation of time, talent and literature. The students and staff look forward to the opportunity to further their literary and musical education, because of this special program.
Nana Camille Yarbrough

Ms. Yarbrough's contributions to Arts and Culture are numerous. She is a celebrated author of children's books, including "Cornrows," illustrated by Carole Byard, "The Summershine Queens," "The Little Tree Growin' in the Shade," illustrated by Tyrone Geter and "Tamika & the Wisdom Rings."

Ms. Yarbrough is a performing artist, who recorded her first album of original songs and poetry, "The Iron Pot Cooker" (1971). "Take Yo' Praise," one of the songs on that critically-acclaimed album was sampled by English techno-musician Fat Boy Slim in 1999. His/her sampled song became "PRAISE YOU" and remains today an international hit. It was used to promote "Michael Jordan To The Max"(documentary), the films "Cruel Intentions, Love And Other Drugs" and the TV show "Buffy The Vampire Slayer." It can also be heard on the "CBS This Morning" Show (during commercial breaks). The video for that song won three MTV Music Awards.

Ms. Yarbrough's work as an actress can be heard on the cast album of the Lorraine Hansberry play, "To Be Young, Gifted and Black."

As an educator, Ms. Yarbrough was a faculty member with the Black Studies Department of City College of New York (CUNY) for twelve years and has contributed articles to the Journal of African Civilizations edited by Dr. Ivan Van Sertima, to Black Collegian Magazine and to the New York Times Drama Section.

Nana Camille Yarbrough is also a distinguished community activist, composer, singer, dancer, radio/TV talk show host, and lecturer. As a songwriter, she had the good fortune to have her songs performed "live" in concert by her friend, the late great Nina Simone. Nana Camille is featured in a BBC TV documentary about Ms.Simone, which aired April, 2015.
The BulLion Foundation
The BulLion Foundation is a nonprofit 501(c)(3) multicultural global organization whose goal is to provide underprivileged people (specifically, the youth) with services, resources and supplies needed to improve the quality of their lives. This is accomplished through a variety of educational, cultural arts, music, athletic, computer science, health and wellness and professional development programs.
TBF Chairman/CEO, Anre' DaCosta