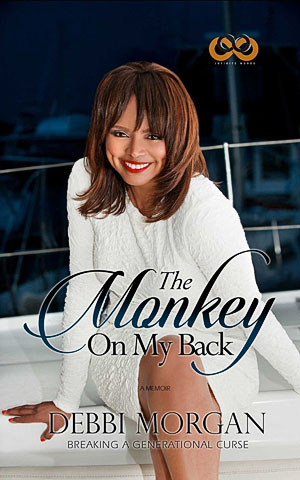 The Monkey on My Back (on sale June 23rd, 2015) is the intimate autobiography of Emmy Award–winning actress Debbi Morgan, best known as Angie Hubbard on the long-running soap opera All My Children.
This compelling memoir charts Debbi's family history as well as her own life from childhood to the present. In it Debbi reveals the fear, doubt, and insecurities she's struggled with for much of her life—and how she escaped an ugly pattern of abuse which passed down from one generation to the next to find self-confidence, happiness, and success.
Through it all, Debbi endured, and with a good dose of humor and self-compassion, she emerged with the deepest love of herself—and her mojo quite intact! Told with intense emotion, candor, and a barrage of belly laughs, Debbi shares a deeply moving, explosive, yet inspirational journey about what it took to break the cycle and emerge as a confident, fearless woman.