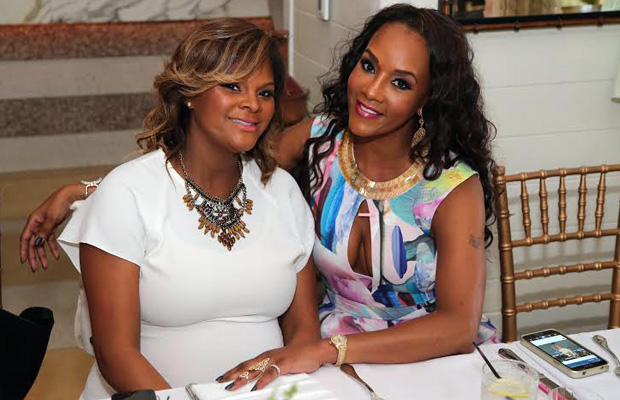 On Saturday September 12 at the Thompson Hotel Miami Beach, Actress Vivica A. Fox hosted a baby shower for celebrity realtor, Style Network's "Hot Listings Miami" star Tomi Rose who recently wed former NBA player Mark Strickland. The Strollers & Stilettos" themed event included a light, healthy lunch catered by celebrity chef Michelle Bernstein. Beautiful mint green boxes of Norman Love Confections chocolates adorned each individual place setting and Olyve flowers designed the centerpieces of lush cream roses accented by textural sword fern in tropical vases.
The peach, cream and gold themed "Strollers & Stilettos" soiree was curated and produced by Amaris Jones. at the The mom-to-be who is expecting a baby girl was feted by her closest friends including Jenine Howard, Alexis Stoudemire, Michelle Mashburn, Almarie Chalmers and Sherie Swerdlow.
Rose,the senior vice president of the sports and entertainment division of Opulence realty, has had a lot to celebrate lately as she also sold LeBron James' Miami estate for $13.4 million last month.